Frequently Asked Questions
Steve Roberts lives on the Cumberland Plateau on a working farm not far from the small town of Crossville, Tennessee, where he constantly strives for a balance between work, family, and recreation. Living in the country and keeping in close contact with nature inspire his music and song-writing.


How long have you been playing music?


I started on the piano at a pretty young age, around 8 or 9, taking lessons from an elderly lady in our neighborhood where I grew up in the west Knoxville area.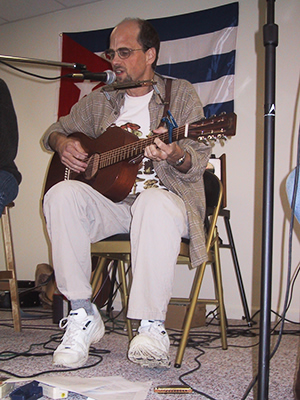 When did you start playing guitar and what brand was your first one?


I didn't actually pick up the guitar until I was 17. I ran into some guys at a friend's house who played folk songs on their guitars and sang harmonies, and I played the harmonica with them. I knew immediately I had to get a guitar, so I saved up about $200 and bought a Sigma acoustic guitar from Hewgley's Music Shop, a store in downtown Knoxville where I later worked and furthered my knowledge of music and musical instruments.


Do you consider the guitar your main instrument?


Well, sort of. I actually started playing the harmonica when I was about 10. My father and his identical twin brother both play the harmonica by ear, and that inspired me, and no doubt imprinted on me at an early age. For me, the harmonica seems to come the most naturally. But, as far as playing an instrument while I sing, I would definitely say the guitar is my main instrument.


What kind of harmonica do you play?


A standard 10 hole diatonic harmonica. I like the Hohner Marine Band and the Blues Harp. I've been told the inner workings -the reeds, etc., of the two are identical, the only difference being the outer casings. My style is a "straight" harp, which means I play in the intended key. I do play a "cross" harp style occasionally, which means you actually play in a different key than what the song is in to give it more of a bluesy sound. I guess I learned the straight harp because that's what my dad always played, and that's what is played more often in folk music.


Which of your guitars is your favorite?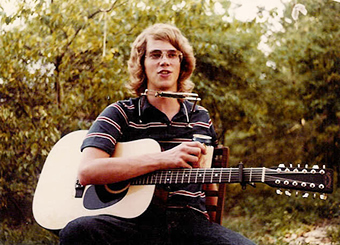 Steve with Takamine 12 String, about 1978

I've owned several over the years -the Sigma, then an Alvarez, then a Guild, a Takamine 12-string, and finally a Martin. When I was working at Hewgleys Music Shop around 1980, I picked up a Martin HD-28 and fell in love with the sound of that particular instrument. I figured out a way to come up with the money, because I HAD to have THAT guitar. Like most guitar players, I own several, and have had many throughout the years, but by far, nothing has ever come close to that Martin. I'm kind of picky about it too. I don't like anyone else playing it. My family and friends all know about this hangup. When people come over, they can pick-up and play around on just about any of my instruments, but if they pick up my Martin, they're not going to hold on to it for very long; I start getting real nervous.


What other instruments do you play?


I play the mandolin, banjo, and bass guitar. I can play just about any fretted stringed instrument, though my proficiency varies from instrument to instrument. The fiddle was always a challenge for me. And, I never could get the hang of the drums at all.


When did you first start writing music?


I wrote my first song around the age of 19. I wrote several songs in my 20's and 30's, but it was always kind a struggle. It seemed like I had to work extra hard at it. Then, in my early 40's, a creative side kicked in out of nowhere, and all of a sudden writing became natural and easy. I was pouring the songs out, one after another. I decided to go ahead and record a CD of original songs in 2001 and 2002, and that's when The Old Wooden Fence came about .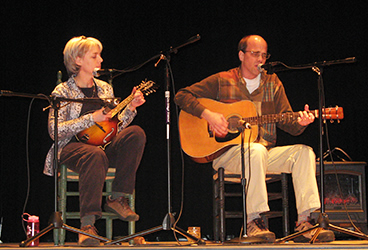 Toni and Steve at the Palace Theater, Crossville, TN on Songwriter's Night When you write a song, do you generally write the music first or the words first, or do you do them at the same time?


Usually a tune and the words will just come to me at the same time. If I'm around an instrument and start working it up, I can capture it. I've certainly lost a lot of potentially good ones, especially when in the bed half asleep (those may have been some of the best ones!). If I don't get up and start working on it, I'll usually lose it. But I almost always do the words and the music together. And it's really strange, once the song is written, it's as if no other tune would fit the words for that song or vice versa. So, yes, the music and words generally go hand in hand from the beginning to the finished product.


Do you usually write your songs on the guitar?


Most of the time, yes. But sometimes I'll write songs on the piano. There have been a few times where I didn't have any instruments around, and I would write the words out on a piece of paper and when I got to an instrument, hope I could remember the melody.


Do you play in any bands?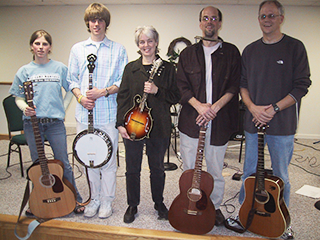 Addie, Simon, Toni, and Steve Roberts with Tom Warren
Not really; I did more of that in my college days than I do today. Currently, it's more of a family thing -my wife, Toni, and I play quite a bit together -she plays the piano and mandolin, and sings harmony with me. My daughter, Addie, and her boyfriend, Matt, also play, so we all get together for some great jam sessions from time to time, and occasionally my son, Simon, joins in. For the last five years or so, we've been playing with a local musician, Tom Warren. It was really neat getting all these personalities, especially family, recording together on the Mushroom World CD. My niece, Hilary Johnson, even played drums on several of the songs, so it truly was a family venture.


Do you perform very often?


Occasionally we'll play for a charity or a songwriter's night, and we've played mushroom songs at several mushroom forays in the southeast. Lately, we've been spending more time in the studio and have pretty much been avoiding the spotlight.


Are you currently recording another CD?


Yes, I've got several really strong songs we've been doing together as a group, and they'll be on the next CD. The name of the CD will be Run for Oklahoma.
Addie, Toni & Steve Roberts w/ Tom Warren, backstage, Palace Theater I was actually born in that state, as was my grandmother. Her great grandfather (my 3rd great grandfather) was an old pioneer who migrated west. He and several of his children made the Oklahoma Run in 1893, the last big land rush in our nation's history, and that's what inspired the title song to this CD. My songs are actually getting better as time goes on, or at least I guess I like to think so!


Are there going to be any mushroom songs on the Run for Oklahoma CD?


Actually, I'm probably done recording mushroom songs for a while. It was a lot of fun doing them, and the Mushroom World CD has been very well received, especially among the circles of mushroom hunters and gatherers. I had a whole bunch of mushroom songs written, and I decided to put them all one CD, rather than mix them up on projects with other music, and the end product was Mushroom World. So, no, no more mushroom songs are scheduled for recording sessions now, or in the foreseeable future. But one day, you never know...